Campus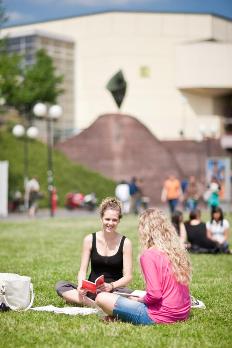 The University of Siegen is a campus university with some 92,000 m² of floor space. Buildings are distributed across three core areas in Siegen (Haardter Berg hill, Emmy-Noether-Campus and administration based at Herrengarten).

Most university buildings are on the north-eastern side of Siegen, in the Weidenau district. Facilities at Haardter Berg include the Adolf-Reichwein-Straße campus, which has the largest lecture halls, the central canteen as well as the central library. Some 500 m south-east is the Hölderlinstraße campus, which accommodates amongst others the centre for information and media technology, actually all offices of our faculty and our departmental library. Another 400 m south, at Paul-Bonatz-Straße, is the engineering Campus. Artur-Woll-Haus on the eastern slope of Haardter Berg hill accommodates the guest house and the externally funded research facilities. Faculty III The school of economic disciplines, recently had the privilege to move to the lower castle in the city center of Siegen.

Some 5 kilometres (3.1 mi) south-west of Haardter Berg is the Emmy-Noether-Campus, which has been home to the mathematics and physics faculties. The university administration and student services are located in the former Siegen inland revenue offices at Herrengarten, right in the city centre, whilst the international office can be found in Siegen's former telegraph office. The city, the university and the government are working together to put Siegen's lower castle completely at the university's disposal to accommodate facilities and faculties.

The University of Siegen was planned together with other universities in North Rhine-Westphalia, so that a similar style and even some of the same building modules can be found at universities of Duisburg-Essen, Paderborn und Wuppertal.